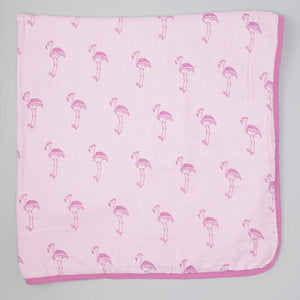 DOUBLE LAYER SWADDLE BLANKETS made from 100% Organic Cotton (delicately woven, yet durable. Gets softer with each wash)
LARGE SIZE 47"x47" - can be used with babies and toddlers
SWADDLING can help reduce the startle reflex and help your baby fall asleep fast and stay sleep longer. Cozy 2 layers, but still breathable and helpful in keeping baby at a comfortable temperature.
MULTI-USES Our woven muslin blankets can be used for swaddling, privacy while nursing and as a breathable sunshade for baby in the car seat or stroller.
MUST-HAVE for everyday use for years to come! These make a great gift!
ECO-FRIENDLY - Made from Organically Grown Cotton (without the use of pesticides). When you buy organic, you not only invest in your child's health, but you invest in our planet and our future.